slide 4
MAIN IMAGE LAYERS LAYER NR. 1 LAYER NR. 2 LAYER NR. 3 LAYER NR. 4
ADVANTAGE OF HIMT -
The Best Institute in Greater Noida, Delhi NCR
HIMT Group of Institutions is one of the best institutes in Greater Noida established in 1998, Institutes under HIMT Group of Institutions are affiliated to Dr. A.P.J. Abdul Kalam Technical University, Chaudhary Charan Singh University, Meerut, Board of Technical Education, Uttar Pradesh and Approved by All India Council for Technical Education (AICTE), Pharmacy Council of India (PCI), Bar Council of India (BCI) & NCTE, New Delhi.
HIMT Group of Institutions is offering 10+ University affiliated programme under different Institutions. The focus of HIMT, the best colleges in Delhi NCR is to provide quality education to our students of different courses along with Add-On Training & Certifications as per Industry needs. Our focus is to make our students Industry ready professional and 100% Placement Assistance to them.
Why Should You Enroll @ HIMT

the best institute in Greater Noida
Well qualified & experienced faculties from top institutes having experience of Teaching, Research & Industry.
Fully Automated Library with Latest Collection of books, text books, reference Books, periodicals, National & International Journals, Magazines and Other Online Resources.
100% Placement Assistance at HIMT, the best private colleges in Noida.
Additional Training & Certifications as per Industry requirements.
Focus on Improvements of personality traits by providing Inter and Intra campus opportunities in the field of academics & extra co-curricular activities.
HIMT, one of the best colleges in Noida aims at a disciplined and structured academic environment enriching intellectual capital of students.
H E Yogesh J Karan High
Commissioner of Republic of Fiji to India
Dr. Ashish Joshi
Associate Dean, City University, New York (USA)
Hon'ble Mr. Justice V K Shali
Former Judge, High Court of Delhi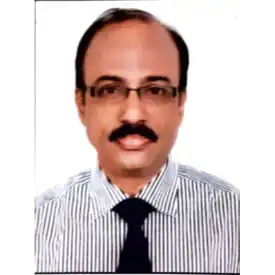 Mr. Surojit Ghosal
Ex- Manager - Novartis India Limited (A Swiss Pharma MNC) 38+ Years of Experience in Pharma Industry
Mr. Amit Khurana
(CGHS, Pharmacy Officer) Medical centre, Parliament House Annexe
academic excellences of HIMT -

The Best College in Delhi NCR
•This is to Inform you that two Students From MCA (2022 Passing Year) Batch Selected as Salesforce Trainee in Campus Drive by AlgoCirrus
This is to inform you that AlgoCirrus is visiting HIMT campus for a placement drive on 16th April'22 for B.Tech. & MCA 2022 in Association with University Industry Interface Cell-AKTU


• This is to Inform you that HIMT Group of Institutions is organising Mega Job Fair'22 on 7th & 8th April'22. More than 30 Companies from different sectors are participating in this event for placements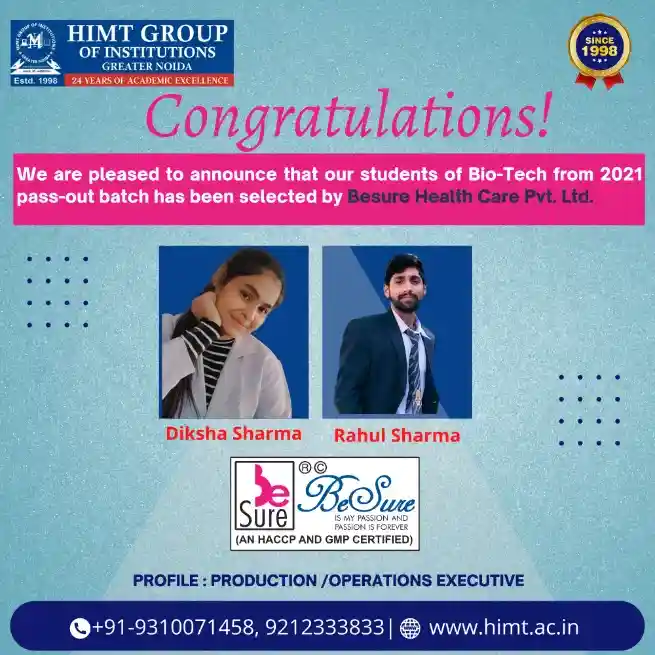 • This is to inform you that two students from the Bio-Technology Department selected as Production/Operations Executive in Campus Drive at BeSure HealthCare Pvt. Ltd.
• This is to inform you that Be Sure HealthCare Pvt. Ltd is Conducting Virtual Placement Drive for Biotechnology Students on 25th March'22


potential recruiters of Himt -

The Best Private College in Delhi NCR
Mr. Dilshad Ghani
Deputy VP (HR) IWI Limited Engineering and Construction Company, Abu Dhabi.
Abhinvav C Shrivastav
Associate VP (Regional Head) Radio City, India
Sunil Kumar
Director Client Solutions, IHS Markit, Bangalore
Lokesh Mishra
Sr. Software Developer Zensar Technology California
Amit Bhagat
Head Engineering & Enterprise IT Architecture
Sadhna Singh
Addl. Civl Judge
Mr. Harendra Nagar
On Site Coordinator DELL, Ireland, Dublin
Mr. Pradeep Shukla
Founder & CEO, Cloud Centric Infotech Pvt. Ltd.
Mr. Aditya Singh
District Manager, Jhonson & Jhonson Pvt. Ltd.
Mr. Arun Goyal
General Manager, Aria Hotels & Consultancy Services (P) Ltd
Mr. Pramod Pal
Managing Director, Pictus Pharmaceutical Pvt. Ltd.
Mr. Himanshu Mishra
Senior Consultant, IBM
Mr. Ashish Sharma
Deputy Vice President, Axis Bank, India
Student Clubs @ HIMT -

The Best College in Noida