Top Placements in the Region Focus On:
Personality Development Programme & Aptitude Skills | Public Speaking | Internships | Field Specific Trainings | Placements
100% Placement Assistance
Tie-Up with Top MNC's for Training & Placements
•This is to Inform you that two Students From MCA (2022 Passing Year) Batch Selected as Salesforce Trainee in Campus Drive by AlgoCirrus
This is to inform you that AlgoCirrus is visiting HIMT campus for a placement drive on 16th April'22 for B.Tech. & MCA 2022 in Association with University Industry Interface Cell-AKTU


• This is to Inform you that HIMT Group of Institutions is organising Mega Job Fair'22 on 7th & 8th April'22. More than 30 Companies from different sectors are participating in this event for placements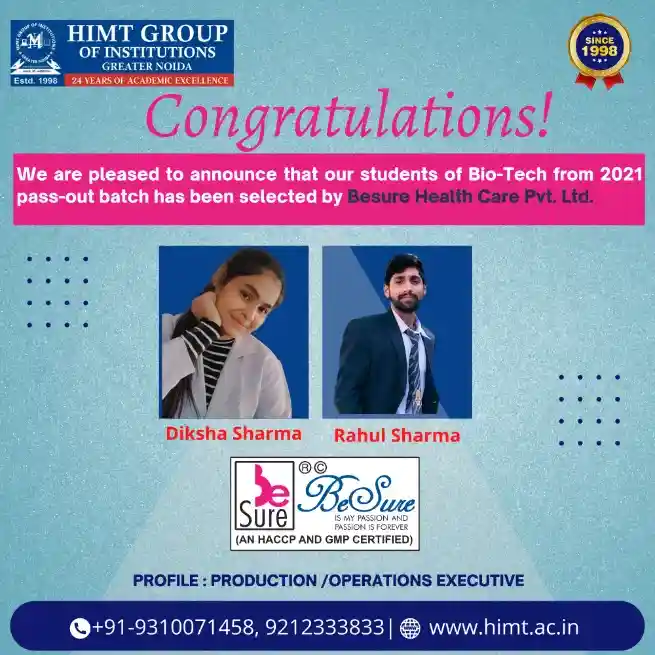 • This is to inform you that two students from the Bio-Technology Department selected as Production/Operations Executive in Campus Drive at BeSure HealthCare Pvt. Ltd.
• This is to inform you that Be Sure HealthCare Pvt. Ltd is Conducting Virtual Placement Drive for Biotechnology Students on 25th March'22


3rd September 2019 - Digital Marketing Workshop
23rd February 2019- Seminar on Sales force Event
(SEBI Workshop)
(Stockmind workshop)
8 Days workshop on soft skills
5th March 2019- Workshop on Digital Marketing
Mr. Dilshad Ghani
Deputy VP (HR) IWI Limited Engineering and Construction Company, Abu Dhabi.
Abhinvav C Shrivastav
Associate VP (Regional Head) Radio City, India
Sunil Kumar
Director Client Solutions, IHS Markit, Bangalore
Lokesh Mishra
Sr. Software Developer Zensar Technology California
Recruiters
testimonial
CloudCentric Infotech Pvt. Ltd.
CloudCentric Infotech Pvt. Ltd. CCC Info Tech would like to thank all the students of HIMT Group of Institutions, faculty and college placement team, for a great recruiting season! We saw high calibre of education and discipline in the team that represented your college and we are happy to continue this association with you. We wish to congratulate all the selected students, faculty and management for their focus on imparting quality education which led to selection of good students during the campus recruitment process conducted for the current batch pass outs.
Pradip Kumar Shukla
Founder & CEO
vDoIT Technologies Pvt. Ltd
I count this one, in my good experiences on my visit to HIMT Group of Institutions. Dedicated faculty & staff, well disciplined students, must say intelligent minds. They produce quality students for our industry every year. Keep up the hard work. Stay Associated.
Narinder Kamra
CEO
GENOPACT
I would like to appreciate that the students of HIMT Group of Institutions are talented and well trained.Their conceptual clarity and hands-on work of student is excellent.HIMT Group of Institutions creates one of the best talent pool for the corporates. We look forward for long term association with HIMT
Abhishek Verma
Manager
IDBI BANK
We are happy with the kind of dedication and focus your student have put.The approach towards learning and understanding new things was good.Our overall experience with your student and institute has marked a commendable start.We would definitely look forward to a healthy and fruitful association with your institute
Mr. Jitendra Kumar
Senior Manager
ADECCO
Till now we had sourced very good candidates from HIMT Group of Institutions .The candidates are good at subjective and technical knowledge and even institution is also really working hard for overall grooming of candidates i.e.Practical Knowledge,Theoretical Knowledge, Communication Skill, interview skills even basic mannerism also. We want to congratulate and wish you people all the best for future
Mr. Sujeet Kumar
National Head
AMAZON
HIMT Group of Institutions is making an excellent effort in developing young students to a total exposure of various facts of Management so that Management students are able to meet the present and future needs of industry
Ramya Sahiti
TalentAcquisition Manager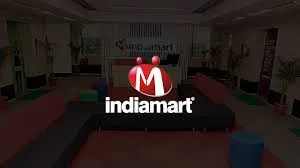 INDIAMART
Impressed with the highly committed management team, taking special care to ensure best exposure to the students. Students are also enthusiastic to work and show best out of them. It was good recruitment experience at HIMT Group of Institutions
Javed Khan